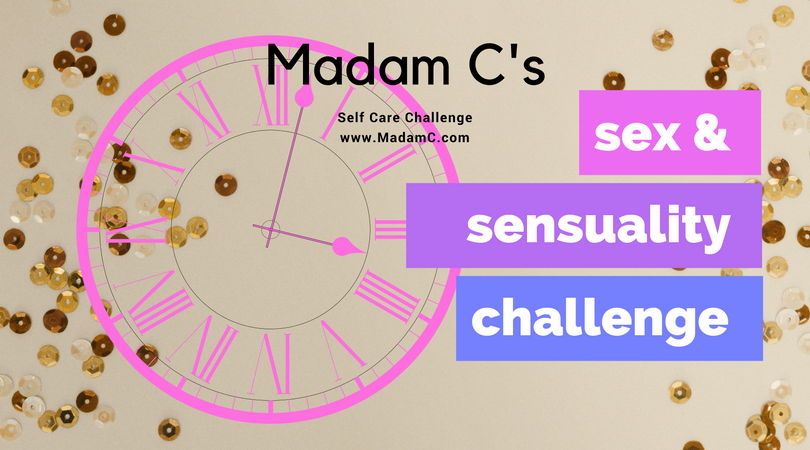 New Year- new connection with yourself!
So far I've asked you to:
Walking around naked
For each negative thought about yourself, listing three things you like about your body and mind
Complimenting yourself!
Using music to help you feel powerful and sexy

Making self care a daily part of your life
Taking ownership of your emotions, actions, and needs
Loving your flaws AND your fierceness
Answering some tough questions about what you need

Masturbating to become more comfortable with your body, release yummy happiness chemicals, and help you feel sexier!
Getting in touch with your body through a body scan meditation
Massaging your body
Engaging the senses with favourite tastes, textures, sounds, sights, and smells!
Asking yourself how trying these things affected the way you touch yourself
New Year, New Sensual You! (15 Tasks!)
To prepare for 2018, and embracing a new and more sensual you... here are are daily tasks to carry you into the New Year! Each task builds on the next, so if you miss a day, just make it up the next!
| | | | | |
| --- | --- | --- | --- | --- |
| 12/27 | 12/28 | 12/29 | 12/30 | 12/31 |
| Thank your body for being sexy and for serving you every day! Your body works hard. Thanking it every day reminds you how valuable it is! | Spend 10 minutes touching your own skin. Try some self massage, a body oil or lotion, or soft caresses! | Eat something sexy & nutritious. Try dark chocolate, avocado, oysters, a peach, ripe berries, honey, almonds or something spicy! | Ground your body by bathing mindfully. Take a shower or bath and focus on how the water sounds and feels. Up the sexy by turning out the lights! | Wear something that makes you feel powerful and seductive while you toast the new year with Prosecco, Sparkling Cider, or Champagne! Dress up EVEN IF YOU ARE STAYING HOME NYE! |
| 1/1 | 1/2 | 1/3 | 1/4 | 1/5 |
| Wear your favourite comfortable clothes and try this relaxing meditation to build your confidence! (By Great Meditation) | Release! Masturbate, have a good cry, exercise, play a video game, or dance! Do something to release energy! | Wear sexy underwear. Don't have some? Buy some!- Or window shop and imagine yourself wearing it! | Spend 5 minutes looking in the mirror at your body and telling yourself what you LOVE about yourself. | Hug a friend or partner for at least 90 seconds. This releases oxytocin that helps you feel calm. Don't like touch? No problem! Spend 5 minutes looking at a picture of someone you love deeply or petting a beloved pet! |
| 1/6 | 1/7 | 1/8 | 1/9 | 1/10 |
| Look over your answers to the questions from Day 5. Have any of your answers changed? Can you answer those "I don't knows" now?  | Repeat Day 8 of the challenge and touch your body, do a body scan meditation, and/or indulge your senses!  | Challenge negative thoughts about yourself and your body. Check out this article from Greatist.com about what negative thoughts are and how to squash them with mindfulness!  | Commit to daily self care! Here are 45 Simple Self-Care Practices for a Healthy Mind, Body, and Soul from tinybuddha.com!  | Keep it going! Being kind, loving, and positive about yourself and your body is something that takes practice! Self care takes practice! Even masturbation takes practice! I challenge you to make 2018 your most sensual year yet! Have new experiences and delight your senses whenever possible! Need help with this? Contact me today!  |