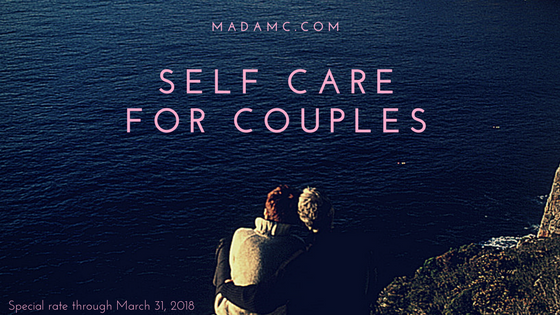 Self Care for Couples - Spring Special!
2-1-18 through 3-31-18
Would you like to create real and lasting closeness with your partner/s? Have you struggled with communication and feeling like your needs are met? Is passive aggression a language you and your partner are speaking?
Spend two hours with Madam C, life and alternative relationship coach,  and learn how to connect with the one you love in a truly deep and meaningful way!
Self Care for Couples includes:
One 2-hour session for couples or polyamory pods (up to three people) for just $199! (Save over $100 off the usual session price)
Develop a Self Care Plan for your relationship
Discover your emotional and physical needs and learn to communicate them openly
Mindfulness strategies for enhancing quality time
NLP techniques for creating a tighter bond
Access to Madam C's resource library
15% off additional session packages!
Offer Code: SpringCouple
Offer Restrictions
Session must be requested by midnight EST 3/31/2018. Session must be scheduled and executed by 4/15/2018. Limit one session per couple/pod. Offer restricted to groups of 3 or less with all individuals being 18 years of age or older.